"Invisible blind" to revolutionize the camouflage industry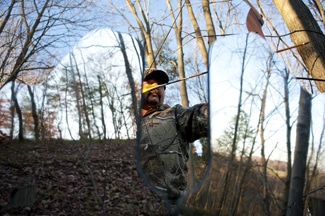 Company co-founders Chet Burdette and Kevin Pottmeyer invented a patent-pending light-weight hunting blind using a unique combination of materials to conceal the waiting hunter behind a screen that reflects the natural environment and creates a zone of invisibility.
In April 2009, TechGROWTH Ohio provided intensive advisory services to help GhostBlind adapt their technology to potential markets and chart a course for the business's growth. TechGROWTH encouraged the firm to explore applications beyond hunting, including wildlife photography, research, and the military.
GhostBlind competed for TechGROWTH Ohio grants to protect its intellectual property, engineer manufacturing processes, and introduce its product to select markets.  GhostBlind went on to win pre-seed investment from TechGROWTH Ohio to scale up and launch a national campaign in time for the winter hunting season.  Production began in August 2009 at Micro Machine Works, Inc. in Barlow, Ohio.
GhostBlind will continue to work with TechGROWTH Ohio to secure additional investment needed to grow the company, create jobs, and expand market opportunities for its innovative camouflage technology.